Top 15 Tips for First Time Home Buyers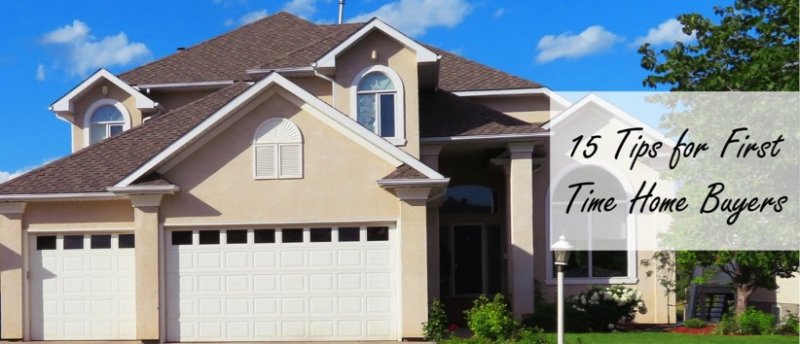 Have you been shut out from the housing market? Well, now may be the time to buy property.
For the past several years, Toronto's real estate market has been a seller's one – people have been buying anything at any price. Ever since the province of Ontario announced a dozen new measures designed to cool the housing market and the Bank of Canada (BOC) raised interest rates for the first time in seven years, the Toronto real estate market has gradually transitioned into a buyer's market, which is drawing in some first-time home buyers.
If you have finally leaped into the housing market for the very first time, then it is important that you prepare yourself, find a capable Toronto real estate agent and steer yourself onto the right course. Due diligence, research and patience are needed in this journey to homeownership.
Here are the top 15 tips for first-time home buyers:
Save for a Down Payment Early
Once you know that you want to purchase property, it is important to start saving for a down payment early and trying to get that 10 to 20 percent that financial institutions require before being approved for a mortgage.
Get Pre-Approved for a Mortgage
Prior to searching for your dream home, it is essential that you first get pre-approved for a mortgage. By doing this, you're confident that you will have the funds to buy a home and you know how much money you have to find the right home for you.
How Much Can You Afford?
When you're in the market for a home, you always want to acquire a home that matches your income. For instance, if you're making $75,000 a year, it is better to purchase a home that is around $300,000 to $500,000 instead of a home that comes with a $1 million price-tag.
Budget for Closing Costs
Many first-time home buyers are unaware of this, but there are multiple costs you need to calculate before you get a mortgage. There are application costs, property transfer tax, title insurance, interest adjustment, legal fees and so on. You need to budget for this.
Refrain from New Credit Activities
From the moment, you start your application to the time you get the keys to your new home, it is important to refrain from new credit activities. In other words, you shouldn't get a new car, buy a new motorcycle or rent a home in Florida. Be quiet when it comes to your credit record.
Look at Mortgage Rates
For the most part, first-time home buyers will turn to their bank for their mortgage needs. Although it may be convenient to do so, it may not necessarily be a prudent one. It would be better financially to look around at other lenders, which will offer a plethora of different mortgages – you want to get the best rates possible.
Obtain a Seasoned Real Estate Agent
A growing number of home buyers are going the solo route. This is dangerous and should be avoided at all costs. Instead, it would be far better to obtain a seasoned real estate agent, who has all the information, details, contacts and experience to match you with your dream home.
Never Get Involved in a Bidding War
You may have heard about your best friend or your spouse's nephew who entered a bidding war that involved 23 people and drove up the price of the home by 32 percent. Well, don't get involved in such a process and find something else. The reason is because you will eventually get a much larger price and it will become difficult to maintain.
Request a Home Inspection
In today's era of bidding wars, many home buyers forego home inspections and purchase the home as is to get it right away. Don't do this. You must always request a home inspection so you don't find any surprises – mould, leaks, a bad foundation – that will cost you plenty down the line.
Try to Negotiate for a Better Price, Features
Not all of us know "The Art of the Deal," but we should still try to negotiate for better prices and even features when buying a home. You always want to get the best bang for your buck.
Find the Right Neighbourhood for Your Family
The neighbourhood can be just as important as the home you locate. You want a neighbourhood that matches your lifestyle. For instance, if you have a family, you want to be close to the best schools; if you're single then you may want a home that's closer to work or the downtown core.
Determine What Type of Mortgage You Want
Are you getting a fixed-rate mortgage or a variable-rate mortgage? Are you applying for the maximum amortization period or for 15 years? You need to know what mortgage you want from the beginning.
What Kind of Home Do You Want?
There are plenty of homes available on the market today: townhomes and detached houses, condominiums and semi-detached houses. It is up to you which one you want and which one suits your budget.
Stick with Your Home – Don't Look for Others
As soon as you find a home that meets the criteria of your checklist, you need to stick with it and refrain from searching for a better one.
For example, if the home you have meets your budget, has the right number of rooms and is located in a great neighbourhood, but it doesn't have enough closet space, go with it and downsize just a tiny bit.
Buy with Your Head, Not Your Heart
Finally, you must purchase with your head and not with your heart. Your head will encourage you to select the home with a modest price-tag and three bedrooms, but your heart will urge you to pick the home with a million-dollar for-sale sign and has the granite countertops and lavish basement. It can be easy to get sucked into the coquettish opulent home, but it is better for you to take the modest one instead.